Uganda, the Congo, and Refugees.
The GOOD, the bad, and the ugly.
The GOOD,
No matter where, there's always good things. Even in a refugee settlement.
Such as the Ugandan people, the host community of millions of refugees and for us, who are so kind and welcoming. They're as pleasant as the rural countryside, and as hospitable as the weather, which was perfect. As individuals and as a country, to accept and welcome millions of refugees while having plenty of problems of their own, is truly amazing. If only other wealthier countries around the world would do the same for their troubled neighbours.
The GOOD. The resilience of the Congolese refugees is incredible. After all that they've been through, to get up everyday in very remote and resource poor settings, to keep on keeping on is amazing. I think most of us in similar situations would just give up.
Fortunately, the refugees have a few Ugandan health care professionals working long and hard for very little pay, which lets this refugee settlement barely function. Barely.
The GOOD idea the Ugandan government has to give a small but dignified area, 10 meters by 10 meters to each family, to "farm" and to call their own.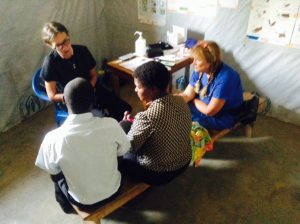 Suzanne thinks of the GOOD maternal health program in this settlement. As apposed to other refugee camps, most of the women came into the hospital to give birth, even if it was their 10th child. One of Suzanne's highlights was saving a newborn baby's life…getting it out of the mother, and doing 8 minutes of CPR on this little blue boy, till it finally started breathing. Foreign to most, and strange to hear that there's this problem, but Suzanne was happy with their malnutrition program.
Everyone is happy that there wasn't an ebola outbreak in the camp, and only limited cholera.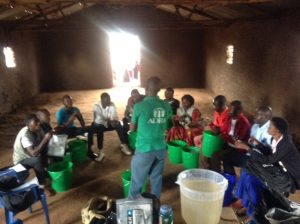 The good.
I enjoyed seeing my students and new friends understand the Water, Sanitation, and Hygiene material. They took over as facilitators and started teaching their own countrymen and women. Great seeing their improvement over the month as they became better at sharing this information. Now, there's little need for a sunburnt foreigner, they can pass this information on their own.
It's good to see some ripples.
The support we received, financially (for the refugees) and the kind words, from people like you.
The monkeys.
No matter where, there's always good things. Even in a refugee settlement.